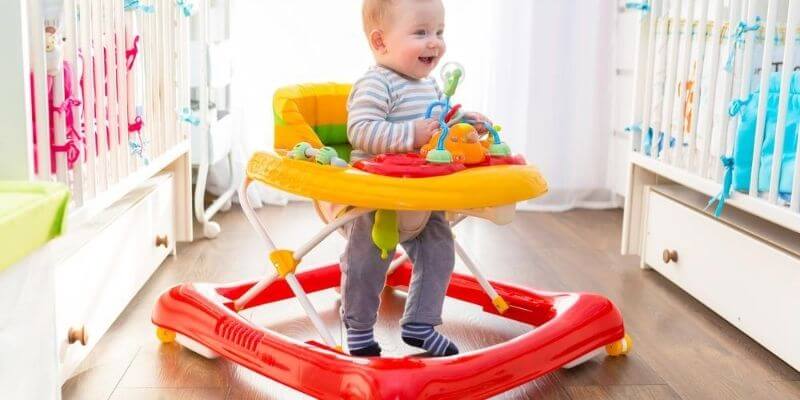 There are a myriad of transitional phases in the life of a baby, but none excites a parent more than when they are making their first steps. This is why most parents prefer investing in a baby walker to help their infants navigate such transitions as crawling to cruising, and cruising to walking.
While baby walkers continue to be the centre of most paediatricians' criticism, their use has been found to aid in building the support and confidence needed by a growing child. The good news is that there is a baby walker suitable for your child, regardless of your style, budget, or design preference.
We reviewed the top baby walker brands and products available to help you make your pick.
What Are the Best Baby Walkers for 2023?
The best baby walkers out on the market right now to buy are:
1. VTech First Steps Baby Walker
Key Features
Suitable for 6–30 months old.
No maximum weight limit.
Walker weighs 2.12 kg.
Detachable educational panel consisting of animal buttons, gears, music notes, and light up buttons.
Reliable design. The model comes with an easy-to-grip handle, textured wheels, and long-lasting design.
Motion sensor that lights up the baby walker, as well as triggering music.
Role-play mobile phone.
The VTech First Steps Baby Walker is well known for its great value for money. It is easy to assemble and also highly versatile. This four-wheeled walker is designed to offer extra fun, while the child learns to walk, thanks to the incorporated educational panel. Babies can have fun, support, and get educated, all at the same time. However, you must be careful with your child as the walker does not have breaks.
2. Fisher-Price Learn With Me Zebra Walker
Key Features
Suitable for 6 months and older.
No maximum weight limit.
Walker weighs 1.86 kg.
Sturdy 4-wheel base.
7 hands-on activities to keep the baby's hands busy.
Light-up buttons.
Roller ball for spinning.
A learning panel that teaches your baby the ABCs and 123s through sounds.
Stable and easy-to-grasp handle.
The Fisher-Price Learn With Me baby walker is quite a sturdy model. It is designed not only to offer support for a baby learning to walk but also to enhance specific skills for child development. Such skills include curiosity, discovery, sensory skills, fine motor, and gross motor skills. If you are interested in a baby walker that will build your child's confidence to walk, talk, and be engaged all day, then the Fisher-Price model is your ideal choice.
3. Red Kite Baby Go Round Jive Unicorn Walker
Key Features
Suitable for 6 months and older.
Maximum weight limit of 12 kg.
Walker weighs 3.8 kg.
3-height adjustable frame.
A safe stop-and-go base.
Removable electronic play tray. This allows the baby to play with their own toys when they want to.
Extra-deep padded seat to support the child's back fully.
The Red Kite Baby Go Round Jive Unicorn is an extra safe model, thanks to the stop-and-go security feature. This model also does a great job of providing a child with comfort, padding, and support. It is also a good sit-to-stand unit. Notably, the baby walker is height-adjustable, and your child can grow with it. The alternative colour option is called the Red Kite Baby Go Round Jive Peppermint Trail. This baby walker will keep your infant in good support, entertained, and engaged.
4. MyChild Car Walker
Key Features
Suitable for 6 months and older.
Maximum weight limit of 12 kg.
Walker weighs 6 kg.
3-height settings.
Rearview mirror.
Fun spinning tyres.
Detachable electronic play tray.
Footpad in rocker mode for support.
The MyChild Car Walker most outstanding feature is the 2-in-1 convertible mode. You can easily convert the unit from a walker to a rocking race mode, and vice versa. You do need a battery to use some of its features. It is easy to assemble, and sufficiently sturdy to support a growing infant. One thing to be careful about is that the walker does not have breaks, which can be risky for a 6-month baby to use without supervision from a parent.
5. Fascol Baby Walker
No products found.
No products found.
Key Features
Suitable for 8 months and older.
Maximum weight limit of 10 kg.
Walker weighs 5 kg.
Four brakes for safety. The brakes are used for multiple functions, including stopping the walker from moving, forward speed cushioning, and preventing the walker from moving freely.
7-height adjustable settings. These include 3-height adjustments for the walker's leg length and 4-height adjustments for the seat cushion.
Soft Polyurethane (PU) seat cushion.
Safety belt to keep the child in check.
Eight 360° universal walking wheels to enhance stability and flexibility.
Foldable design.
Complementary equipment, including a user manual, floor mat, and a tray.
The Fascol Baby Walker is a high-quality model, built with a sturdy design and durable materials. It has everything you could be looking for in a baby walker. It is highly secure, stable, strong fabrics, and durable plastics, not forgetting the great value for money that comes with purchasing this model. Also, the foldable design of the Fascol Baby Walker makes it possible for you to fold it away for easy storage.
6. Babylo Bizzy Bee Baby Walker
No products found.
No products found.
Key Features
Suitable for 6 months and older.
Maximum weight limit of 12 kg.
Walker weighs 3.8 kg.
Removable seat unit for easy washing.
3 adjustable height settings.
6 stoppers for the safety of the child.
Foldable, polka dot design.
A colourful tray (consisting of a rattle and teethers) installed to keep the baby entertained.
The Babylo Bizzy Bee Baby Walker is easy to fold into a compact size. This way, you can store the unit conveniently when not in use. The removable seat unit of this walker makes it easy for you to wash it. Also, Babylo Bizzy Bee is quite a secure model, following the 6 attached stoppers that help in controlling and stabilising the walker. However, for the price tag attached to it, this could be an overpriced model.
7. MyChild Coupe Walker
Key Features
Suitable for 6 months to 24 months old.
Maximum weight limit of 11 kg.
Walker weighs 6.7 kg.
Detachable play tray.
Rearview mirror and moveable tyres.
Foldable design for easy storage.
Gear stick and a steering wheel.
Double function; Can be used in the rock mode or walking mode.
Speed restrictive wheels.
Removable soft padded seat for easy cleaning.
3-height positions.
The MyChild Coupe Walker One stand out benefit is its versatility. It is designed to perform multiple functions, including walking support, entertainment, and keeping the child engaged. This model can be used to keep the infant engaged, as well as supporting them as they learn to walk. Although the model is secure, you might want to supervise your child when using it.
What to Consider When Buying a Baby Walker
With the wide-ranging options of baby walkers available in the market, it can be challenging to find the best model for your child. Here are factors to consider when making your purchasing decision.
1. Construction or Design
Different baby walkers are designed to suit children of varying ages and weights. Some models are made for younger babies who cannot walk on their own, while others are designed for older children who can walk but lack confidence.
2. Safety
Children can be quite curious when learning to walk, and their safety must remain a top priority when purchasing a baby walker. For this reason, you must consider the safety features that accompany a model before purchasing it.
3. Interaction Features
Interaction features, such as an educational panel, music, and sounds, are a great way to keep your child entertained. On the other hand, too much of these features can inhibit a child from engaging in self-activities in the future. Therefore, it is essential to go for a model that is interesting but not too much to discourage your child from self-activity.
Other Related Reviews